I love working in academia, so when I saw that Sandra Oh was starring in a TV series about an English Department, my interest was piqued. It was released in 2021, and I did not hear one word about it until I was fully engaged in winter break mode this year. With only one season and six episodes, it made a great micro-binge session.
The show had very little to do with teaching but about trying to meet the expectations of higher ups, which is the underlying beast of academia. As I am just a fledgling instructor, I don't have to deal with that as much. The thing that I found the most relatable was Ji-Yoon's bed: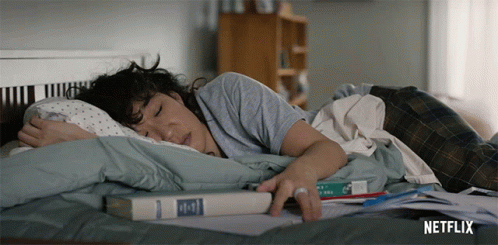 It is the perfect display of no work-life balance. Even when "resting" she is still working. However, it is also a display that she is passionate about her work because working in this manner IS resting. I confess that I also saw the open half of my bed as an incredibly useful spot to store books. I was notorious for this when I was in community college and my husband was deployed and then living two states away. I called it my academic cocoon.
On the flipside: The biggest peeve I found as an instructor is that the English Department was solely focused on Literature. At one point, an older professor said they would not teach first year composition like it was a death sentence. I'm just saying, if the English Department had prioritized Composition and Rhetoric, which are usually the predominant responsibilities of an English Department, they might have had a student population of passionate students wondering, "Why are we responding so vehemently to a video that has clearly been doctored?"
On the one hand, I really want a second season. I want to see Hambling in all her glory being the Chair and making waves. On the other hand, one of the great things about literature is that novels make an impact but leave you with questions to muddle through on your own. In this way, the story lives on in each person's imagination. As a stand-alone, the ending to The Chair honors the content depicted well.
Please comment if you have watched the Chair. Do you think it should have had a second season?